So it's been a while since I've updated by blog. I know there were people wondering "What happened to 2018?". Well, there wasn't much in 2018 chase wise, and the photos I shot I didn't feel were blog-worthy. Yes, we had a couple of dates which had some pretty storms, but nothing which I would consider overtly spectacular. Maybe in the future I'll go back and edit a few blogs and toss up some photos - not entirely sure. If there's anything you want to see for dates, let me know and I'll work on tossing some pictures up from that day!
Now it's 2019. Time for the first blog of the new year.
There's been a few changes over the last year as well - one of the largest and most recognizable to the public is I am no longer using my trusty old Dodge Durango for chasing. You'll see a new vehicle on the road this year! It's not quite ready for prime-time, so this first chase really was to work out some of the bugs associated with getting a new vehicle chase ready. I don't have all the radios wired in yet or the logos on the side, but the core of it is ready - and no time like the present to use it! I did find there's a few things which will need to be altered before my first 'major' chase. (And we still have a few surprises in store for our viewers!)
But, on to the chase log!
We need there was a chance for some storms on Wednesday - I even had this in my 7-Day outlook from when I filled in on air last week. But, it wasn't going to become apparent until the day of.
I then woke up to this:
And I knew I would be chasing today!
Our expectations were not all that high - we knew we'd have some storms, but with high bases, it should make for some decent storm structure with supercell-characteristics, but I was amazed with what I saw today.
By the 3pm Outlook, we had a 2% risk for a tornado, but with the overly high bases, it would be a stretch:
After I ran to the station to pick up some camera gear and to chat with our news director and producers, a quick conversation with Justin on targeting, the chase was on!
I blasted west on I-94 towards Jamestown, and there's a couple of things I need on a chase - water, food, and occasionally, caffeine! I wasn't able to get a good lunch in and I haven't been sleeping the best lately, so a quick pit stop, top off the new truck, and get fuel for the chase and I ended up a few miles west of Jamestown just off of I-94.
Just west of Jamestown.
Not too much for storm structure, but I knew I needed to wait. There were two areas of convection I was watching - one south of Bismarck, and then another area northeast of Bismarck. The computer models (HRRR really) was consistent with taking a cell, and then sending off to the southeast, and with it giving it supercell-like-structures. The catch is, which one was it? I also looked at mesoanalysis, and after a little while of waiting it was easy to figure out it was going to be the northern cell.
I then headed north towards Pingree, and with the storm motions and lack of good road options I opted to let the storm come to me.
Getting the planting done!
Then the storm quickly became severe warned and it started to show much better organization on radar.
This is what the cell near Linton, ND looked like...from Pingree. Note the clearing behind it - this was the cold front!
Showing organization!
I was then treated to an almost constant rumble of thunder!
In watching radar, I was seeing the cell cycle - it would get stronger, rain on it's inflow, and then pulse down. Then, it started to really get it's act together and the VIL started to spike and my hail markers on my laptop started showing 2-3 inch hail possible! Yikes! Time to get out of the way. (I don't want to have to explain to my insurance agent how I need a new windshield after the FIRST chase of the year!)
Note the hail shaft off to the right.
About this time I noted it was starting to get a wall cloud going and showing rotation.
The entire inflow was rotating into the cloud base! Pretty neat!
It was about this time I called NWS Bismarck to let them know what I was seeing. Now, the chances of this thing dropping a tornado was pretty slim, simply due to the very high cloud bases.
Pano of the cell.
But, it still made for a pretty sight!
Rainbows!
The cell continued to be severe warned, and then really started to get it's act together near Spiritwood.
At this point 3+ inch hail was possible with over 60mph winds, which would result in a very bad day for me if I continued east. I then dropped down by the Spiritwood exit off of I-94 and watched as the cell put on one heck of a show:
Wall Cloud

It showed almost constant lightning, and then a very pretty pink wall cloud developed! There was some rotation to it, but it was not overly impressive.
After watching this and talking with our staff back at the station, I started to make my way back to Fargo, and made it home in time to be in bed before midnight. Not too bad for the first chase of the year!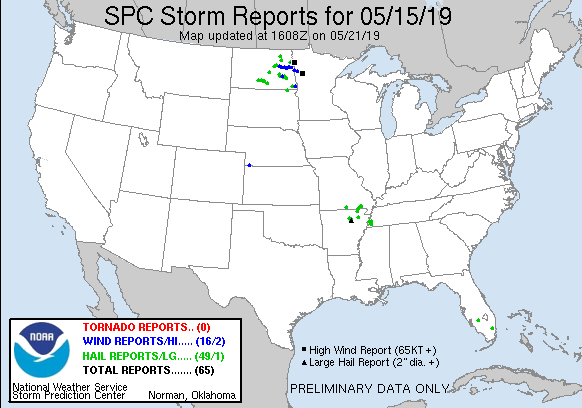 Not bad for storm reports!