When you wake up on October 10th and see this as your homepage, you know it's going to be a good day.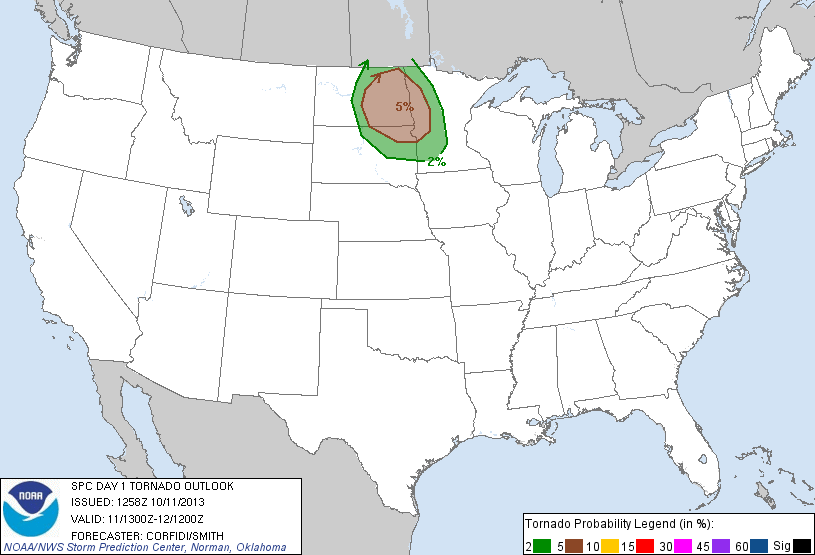 After some quick work at the day job, I ran back to the station, discussed things with the rest of the awesome VNL StormTeam, Lisa and I piled into the chase vehicle, and off we went towards Valley City. I wish I would have saved some of the data from Friday, but alas, I didn't. There was going to be some very strong shear, but not much for instability. As a wise meteorologist once told me "Eric, shear can overcome almost anything...don't discount a day just because you don't have much for instability." This meant the chase was on!
Because we were going to be dealing with low-topped supercells, it was going to be very hard for us to depict anything on radar. The area we were targeting, the radar beam was going to be fairly high up, which would make it difficult to see any sort of rotation on radar. Thus, our eyes would be the best thing today to look at storms.
Just outside of Valley City, we were able to get on some storms. When the first cell came through, Lisa and I could see the wall of rain and wind coming at us. It was quite the sight to see as you could just see the rain curtains wrapping around the storm as the shelf got closer. Once it got to us, it dropped some pea size hail and that was about it.
After we let the storm pass us by, we dipped a little south to try to see things on the back side of the storm. Since it was a tricky day to see the action area of the storm, we had to take some chances with it. On the back side though, we were treated with quite the view!
Lots of low hanging scud. Great to fool people on what is a tornado or not!
After watching this line of a few minutes, Lisa and I went further south, as the low was moving to the northeast, there was another line of storms starting to form, and we wanted to pay close attention to these storms as they would be close to the low and have some additional potential. We got quite the treat!
Nice looking scud!
Not much going on here....
We watched and waiting a little, and then we were treated to this:
Good scud action under this storm! Great Skywarn training material from today!
Not too bad!
Not long thereafter, the storm really fell apart, and we saw another cell starting to take over. We then went north and while on our way north, we could tell the storm was starting to get a little more structure to it.
After we got further north, I took out a different lens for my camera and captured this beauty:
Near Rogers, ND we stopped on a hill just to look at the storm a little more.
Lisa also happened to hop out of the truck and we can tell she is always hard at work scanning the skies!
Lisa, ever vigilant!
Just north of Rogers, it tried again to get something going, and it did drop a funnel for a very short period of time (of course while I was looking the other way!) and by the time I looked back, there wasn't much left.
Lisa was able to capture one little glimpse of it, so head on over to her
twitter
feed for the
photo
.
Overall, a very pleasant chase, and we were able to be home at a reasonable hour since the next day I had some day job stuff to take care of.
Now, it's time to start thinking about snow! Not really what I am looking forward to, but winter helps me to appreciate the storms and our summers in the valley. With my day job, I often times talk to people in the southern part of the US, and they ask me how can I live up in North Dakota with the cold winters. My reply: Come check us out in the summer. It makes it all worth it!