This was the second Wednesday in a row I ended up chasing. Another day, another trip to good o'l South Dakota. This was also the day of the very destructive tornadoes in Wessington Springs. I wasn't able to make it all the way that far south and back in one night, so I stuck to the northern storms. I have to say while I wasn't rewarded with a tornado, I was still rewarded with some pretty awesome structure shots.
One of my biggest challenges for this day was since I was already in Brown County, SD would be to get north to the storms in far southern ND. I was going in and out of cell signal which made feeding video back to the station difficult at times, and made it even hard for me to call the station and talk to Hutch and Lisa!
This photo was taken looking northwest towards Ashley, ND. Somewhere in there would be the tornado.
Another shot.
Once I was able to get to Forbes, ND, I got a little north and ended up taking this panoramic shot of the shelf cloud, which stretched almost from horizon to horizon.
Somewhere near Monango, ND.
Somewhere north of Forbes, ND
Quite a good day chase wise, but not a great day for many other people. We have received so much rain here in ND and SD in the last month, the rivers are I think higher than they were with the spring melt.
That said, here's the storm reports from this day: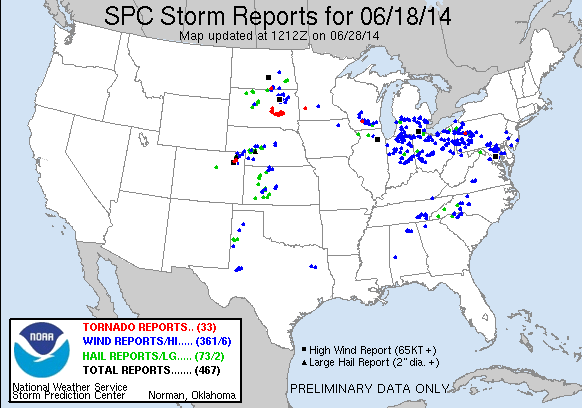 Quite a day.....