Since right now we are looking at nothing good for the next week at least in terms of storms (maybe some gusty wind Monday night when the cold front comes through) I figured I'd toss up another blast from the past.
This is from 6-18-09, where there was one reported tornado touchdown in ND near the I-29 scales.
Not looking very organized, or my camera was out of focus.....
At first I didn't think the storm was this impressive. Needless to say, by the time all was said and done, it would turn into a very enjoyable local chase for me.
Law Enforcement out watching the storm. Note the wall in the distance.
While I was out and about, near the Christine exit, I stopped to watch the storm and talk to one of the local ND State Patrol folks. He was pretty impressed with what I had, and we looked at radar for a while all from the comfort of my vehicle. Pretty neat to make a 'good' contact with a member of LE. So, to whoever this trooper is, thanks! As for the storm, it was too far to tell if the wall was rotating or not, so what did I do? I kept my mouth shut and just watched the storm for a while.
Getting some organization to it.
The storm was at this point tornado warned. No way for me to tell if there was any funnel action at this point.
SHE'S GETTIN' CLOSER CAP'N!
Storm started to get a little closer, and I could tell the wall was pretty ragged and not very organized. It was around this time the tornado was reported near the I-29 weigh station.
It was around this time the storm started to gust out and rush off to the east. I said good bye to the ND trooper, and keeping in mind the sign that said "ROAD WORK NEXT 4 MILES" I was very cognizant of what that meant. Keep in mind this was June 2009, and many roads were washed out by the flooding from just a few weeks prior.
Shelf starting to form
Since I knew what roads were closed and still partially under water I was able to use this to my advantage. I kept jogging east and to the SE and kept up with the storm, finally getting in front of it.
INSERT JAWS THEME HERE.
This storm had many sharks teeth protruding from the storm, and at times it almost seemed as though they would reach the ground. I saw a few gustnadoes on the leading edge as well. I called NWS somewhere around here and said "Hey, there's a tons of gustnadoes on the leading edge of this thing - they are NOT tornadoes."
WHERE IS MY FOCUS??
This is a day that I hate for some reasons.
1. All the reports I was hearing of tornadoes on the radio (Ham, and otherwise).
2. Where the flying fark is my focus, and why on this green earth am I not able to get it to work?
MUCH BETTER.
As I got closer to Fergus Falls, this shelf started to look really mean. I could just see the pea-green behind me, knowing I was about to get rocked.
This was before I learned Photoshop. Bleh!
Just wonderful storm structure on this thing.
Awww, yeah.
Not sure what I was thinking here.....
I was able to get into Fergus, and quickly realized after a phone call to Bill Doms that I needed to be somewhat outside of town in order to really see this thing. I had a few minutes before the storm hit, so I went out towards Rush Lake, and watched her come in.
Shelf is coming at me!
I LIKE WHERE THIS THREAD IS GOING.
Of course, it was shortly hereafter I learned to actually use my D60, as this was one of my first chases ever with it. The storms, while visually impressive, also did some damage to the city of Fergus Falls with some Semi's getting blown over on the interstate.
SPC reports from the day: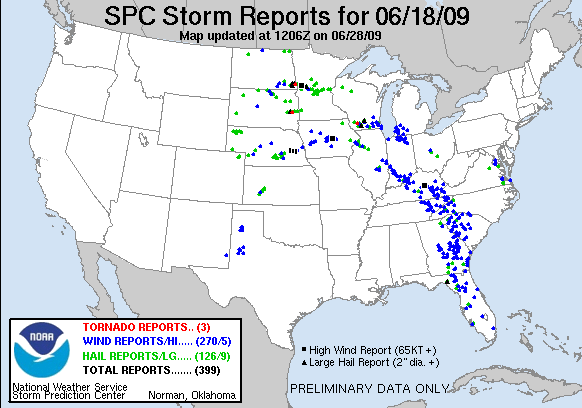 Overall, a pretty successful chase day.
Now, as we approach May 1st, by this time last year I had already seen the Oxford, NE tornado, and on May 1st, saw the Brooten/Sedan, MN tornado. What a difference a year makes! At least with the flood this year the water levels do not appear to be getting as high as was once feared. This is good news! As for those of you who took the first two weeks of May off for your chasecation, good luck! Next week or so looks pretty tough for storms.